MLB Field of Dreams Seating Chart | Summer Birmingham Alabama, Summer 2024 June 20, 2024 @ Rickwood Ballpark (6 p.m. on June 20, 2024. The San Francisco Giants will play the St. Louis Cardinals.) & Dyersville Iowa, Summer 2025.

How to get tickets!

Hotels & Tickets June 20, 2024. & 2025 Season!

"MLB - FIELD OF DREAMS SEATING CHART 2024 IN BIRMINGHAM ALABAMA @ RICKWOOD BALLPARK"

June 20, 2024. SEATING CHART, Birmingham Alabama June 20, 2024.

"MLB - FIELD OF DREAMS SEATING CHART 2025 IN DYERSVILLE IOWA @ FIELD OF DREAMS BALLPARK"

June 20, 2024. SEATING CHART, Birmingham Alabama June 20, 2024.

Your browser does not support the video tag.

It's never too early to familiarize yourself with the seating configurations of this temporary and unique venue. In this regularly updated post, you will find the most up-to-date MLB Field of Dreams Seating Chart information, including row and seat numbers, seat views, face value ticket prices, and much more.

Free Newsletter:

How to Buy Field of Dreams Tickets

Sign up to receive an email alert as soon as ticket information becomes available for this once in a lifetime event!

MLB Field of Dreams Seating Chart

While the configurations for this new stadium have not yet been made official, we will have it posted here once it does.

The OFFICIAL Field Of Dreams Seating chart for 2025 game in Dyersville Iowa what seating arrangements will look like:

Actual official Seating sections:
There is 17 sections:
INFIELD with regular seats with back supports which rows will go up to 21 rows.
OUTFIELD with flat benches with NO back supports with up to 41 rows.
Obviously, it seems like behind home plate seems to be the BEST SEATS in the house...


When Do Field of Dreams Tickets Go On Sale?

While specific dates and times have yet to have been made public, the league will make an announcement in the next months but no idea when yet.
We are guessing that the already-limited amount of ticket inventory will be incredibly hard to come by for the general public.

MLB Field of Dreams Ticket Prices.

Ticket prices for this game are expected to be incredibly high, and they may be the single most in demand game of the entire 2024/25 MLB season.
The resale market is expected to be at a premium, with the lack of inventory from the get-go in an incredibly small stadium, by MLB standards.
As is the case with the seating configuration, we will post ticket prices as soon as they are released by MLB.

MLB Field of Dreams Parking.

With the constructiòn of the new Field of Dreams Project in Dyersville with a 200 million inversion parking as well as accommodation will not be an issue to worry about!.

MLB Field of Dreams Hotels.

With the construction of a Hotel Boutique on the venue, the opportunity to experience Field of Dreams from start to end, plus being located right on the spot! there will also be hotels and accomodations some will be closer to 100 miles away if you wait too long. It is recommended to arrive in Iowa at the latest, early Wednesday and relax, let this sink in to be ready for the Thursday game.
It is recommended to book at least for 2 nights or 3 in case the game is rained out 1 day which would push the game on Friday the 13th! Not to mention, most hotels will require a 3 nights stay or more for this event. We expect hotels and again prices will be at a premium.
Book your hotels early if it is not too late already. Some hotels will be available here¦
MLB Field of Dreams Game Hotels and Tickets packages

BIRMINGHAM, ALABAMA AREA - FIELD OF DREAMS June 20, 2024. LIST OF LUXURY HOTELS!

Drury Inn & Suites Birmingham Grandview
Drury Inn & Suites Birmingham Lakeshore Drive
Hampton Inn & Suites Birmingham-Downtown-Tutwiler
Residence Inn by Marriott Birmingham Downtown at UAB
Redmont Hotel Birmingham, Curio Collection by Hilton
Hyatt Regency Birmingham - The Wynfrey Hotel
Marriott Birmingham
Hilton Birmingham Downtown at UAB
Embassy Suites by Hilton Birmingham Hoover
Elyton Hotel, Autograph Collection
Best Western Carlton Suites
Best Western Plus Birmingham Inn & Suites
Hampton Inn & Suites Birmingham / 280 East - Eagle Point
Homewood Suites by Hilton Birmingham Downtown Near UAB
Hilton Garden Inn Birmingham SE/Liberty Park
DoubleTree by Hilton Birmingham Perimeter Park
Hilton Garden Inn Downtown Birmingham
Hampton Inn Birmingham I-65 / Lakeshore Drive
Homewood Suites Birmingham South Inverness
Hilton Garden Inn Birmingham/Trussville
Courtyard by Marriott Birmingham Downtown at UAB
Candlewood Suites Birmingham - Inverness

SpringHill Suites by Marriott Birmingham Downtown at UAB
Red Roof Inn Birmingham South
Motel 6 Birmingham
Holiday Inn Express & Suites Birmingham - Homewood
Comfort Inn & Suites At Crosspex Village
The Westin Birmingham
The Kelly Birmingham, Tapestry Collection by Hilton
Home2 Suites Birmingham Colonnade
Fairfield Inn & Suites by Marriott Birmingham Downtown
Home2 Suites by Hilton Birmingham Downtown
SpringHill Suites Birmingham Colonnade
Sonesta Select Birmingham Colonnade
Hilton Garden Inn Birmingham / Lakeshore Drive
Fairfield Inn & Suites Birmingham Colonnade/Grandview
Sleep Inn & Suites Birmingham - Hoover
Sonesta ES Suites Birmingham
Sleep Inn & Suites
TownePlace Suites by Marriott Birmingham South
Renaissance Birmingham Ross Bridge Golf Resort & Spa
Holiday Inn Birmingham-Airport, an IHG Hotel
Hassinger Daniels Mansion Bed and Breakfast

La Quinta Inn & Suites by Wyndham Birmingham Hoover
Hotel Indigo Birmingham Five Points S - Uab, an IHG Hotel
Birmingham Tree House
Days Inn Hoover Birmingham
Hampton Inn Birmingham-Colonnade 280
Sonesta ES Suites Birmingham Homewood
Suburban Extended Stay Birmingham Homewood
Sheraton Birmingham Hotel
La Quinta Inn by Wyndham Birmingham - Inverness
Comfort Inn Birmingham - Irondale
Courtyard by Marriott Birmingham Trussville
Embassy Suites by Hilton Birmingham
Comfort Inn
Quality Inn & Suites Birmingham Highway 280
Extended Stay America - Birmingham - Perimeter Park South
Motel 6 Birmingham, AL – Medical Center
Extended Stay America - Birmingham - Wildwood
John Hand Club
Holiday Inn Express & Suites Birmingham - Inverness 280
Extended Stay America Select Suites Birmingham - Inverness
Centennial Lodge, St. Vincent's Hospital
Apex Motel
town motel birmingham Alabama

DUBUQUE IOWA AREA - FIELD OF DREAMS Summer 2025 LIST OF LUXURY HOTELS!

Hotel Julien Dubuque
Grand Harbor Resort & Waterpark
Quality Inn Dubuque ex Comfort Inn Dubuque
Mainstay Suites
Hilton Garden Inn Dubuque Downtown
Holiday Inn Express & Suites
Hampton Inn Dubuque
Best Western Plus
Hotel Econo Lodge Inn & Suites
Country Inn & Suites by Radisson

Dubuque-Days Inn
Super 8 Dubuque Galena Area
Towneplace Suites Dubuque Downtown
Fairfield Inn Dubuque
Redstone Inn And Suites
Holiday Inn Dubuque/Galena
Motel 6 Dubuque
Hotel Baymont Inn and Suites Dubuque
Four Mounds Inn
The Hancock House
Hotel Dubuque-Days Inn

Hotel Baymont Inn and Suites
Hotel Mainstay Suites Dubuque
Grand Harbor Resort & Waterpark
Stoney Creek Hotel - Galena
The Inn at Felt Manor
Renaissance Riverboat Suites and Rooms
Comfort Inn Dyersville near Field of Dreams
Super 8 by Wyndham Dyersville
12/1/20 PAST NEWS
The MLB had announced that due to COVID-19, the Yankees will no longer participate in this contest in Iowa, citing travel concerns. In their stead will be the St. Louis Cardinals, who are not scheduled to face the White Sox in this special game. There is no guarantee at this time whether or not fans will be allowed to attend. We'll be sure to post more information here as it comes out. The MLB also announced last month that the Cincinnati Reds would again face the Chicago Cubs in the 2022 season.
In what may be the MLB's most innovative idea ever, the league has announced that in 2024, there will now be a very special game held , Summer Birmingham Alabama, Summer 2024 @ Rickwood Ballpark & Dyersville Iowa, Summer 2025, (6 p.m. on June 20, 2024. The San Francisco Giants will play the St. Louis Cardinals.). What makes this game so special is that it will be played in Dyersville, Iowa, right next to the actual shooting location of the 1989 classic baseball-centric Kevin Costner film, Field of Dreams. The game will occur in a temporary 8,000 seat stadium that will be set up an Aaron Judge homer away from where the iconic scenes were filmed in Dyersville. Rest assured that they're building it, and people will come.
Get your Field of Dreams Tickets NOW!
Secure your Game Tickets & Hotel Packages for one of the most opular & nostalgic baseball game of the year! MLB Field of Dreams, Now scheduled for - Summer 2024 in Birmingham, Alabama or 2025 in Dyersville, Iowa
BUY NOW YOUR FIELD OF DREAMS 2024 Game Tickets!
Offer available for limited time only, get your Field of Dream tickets while available! BUY NOW!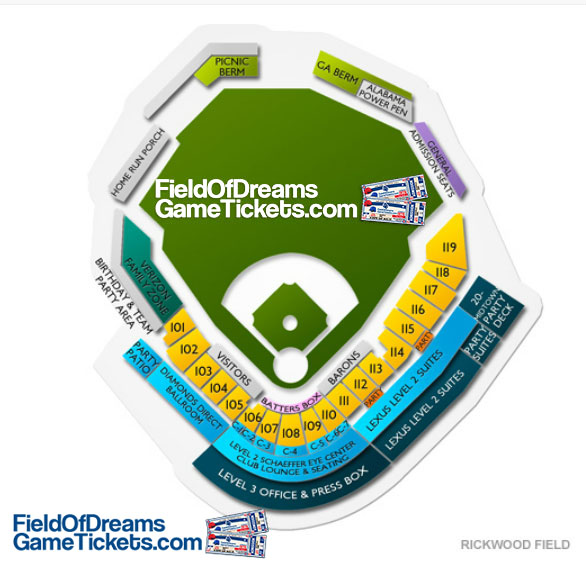 FRONT ROW: Sections 106, 107, 108 or 109
Each pair of tickets come with 2 nights in a 4-stars Birmingham Hotel

FRONT ROW: Sections 103, 104, 105 111, 112 or 113
Each pair of tickets come with 2 nights in a 4-stars Birmingham Hotel

LOW Sections 106, 107, 108 or 109 Row 2 to 15
Each pair of tickets come with 2 nights in a 4-stars Birmingham Hotel

LOW Sections 103, 104, 105 111, 112 or 113: Row 2 to 15
Each pair of tickets come with 2 nights in a 4-stars Birmingham Hotel

Sections 101, 102, 114, 115, 116, 117 or 118
Each pair of tickets come with 2 nights in a 4-stars Birmingham Hotel

Section 119, General admissions, or Bleachers seats
EXCEPT FOR THIS OPTION, each pair of tickets come with 2 nights in a 4-stars Birmingham Hotel